Double Deck The Halls
There's no time like the present! Get ready to make it a December to remember, with our beautiful collection of festive decorations and Christmas ornaments for every corner of your home.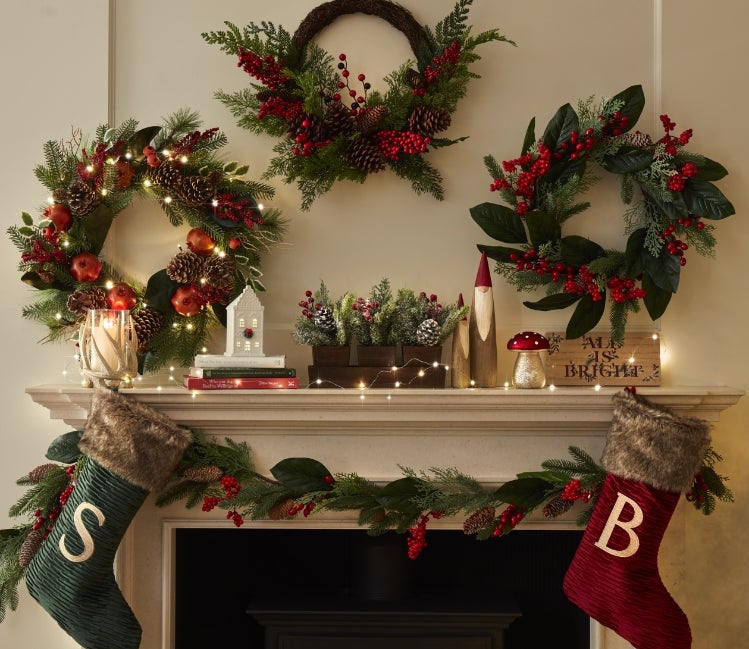 A Warm Welcome
Bring the Christmas spirit into your home with a traditional wreath on your front door. And we've got a huge range of garlands and wreaths to choose from, whether you're looking for outdoor Christmas decorations for the garden, or something eye-catching to sit among your Christmas table decorations.

Decorating for Christmas
Deck the halls!
Fill your home with the spirit of Christmas with our huge selection of Christmas decorations. From baubles to bunting, you'll find all your classic and novelty festive adornments here, with different styles and themes to work with whatever you've got planned for the season.

Christmas cushions and throws
Cosiness, incoming. When it's cold outside, make sure you're warm and comfy inside with some Christmas cushions and throws. Add a healthy dose of seasonal cheer to your living space or bedroom by adorning your sofas and chairs with Christmas cushions. Choose classic motifs like reindeer, snowflakes, or jolly Santas, or go for modern, minimalist designs in seasonal colours. Layer up with blankets and throws and transform any room into a winter sanctuary. Try draping a Christmas throw over your favourite armchair or snuggling under a blanket while watching Christmas films. Bliss.

Christmas lights
Our Christmas lights come in a dazzling array of shapes and colours, from classic white strings to vibrant multicoloured displays. Perfect to wind around your Christmas tree, our Christmas lights are also great for adding a warm glow to your mantelpiece, window, or anywhere else you'd like to make twinkle. We've also got a selection of outdoor Christmas lights to create a dazzling display in the garden, too.

Christmas room decorations
Transform your home with our Christmas room decorations. Whether you're after some traditional adornments for your tree, a pretty wreath for your front door, or even some festive accessories for the bathroom, our selection covers the lot. From the scent of cinnamon and pine to the visual delights of twinkling lights, our Christmas room decorations turn ordinary spaces into extraordinary winter wonderlands – the perfect backdrop for magical moments.

Christmas tree decorations
One of the best parts of Christmas is decorating the tree. The process of adorning the Christmas tree with festive trinkets, baubles, lights and more is a cherished ritual that marks the start of the season, often crowned with the star of the show: the tree topper. We've got something for every decorative theme and style, from traditional tartan ribbon and bows to cute ornaments the little ones will love.

Baubles
Of course, one thing that every Christmas tree needs is a good selection of baubles. Glass baubles are timeless and versatile, or choose shatterproof for resilience against pets, children or accidents. Our collection of baubles includes metallic finishes, matte textures, and glittering accents to turn your Christmas tree into a kaleidoscope of colour.

Artificial Christmas trees
Invest in an affordable artificial Christmas tree that can be used again and again. Our realistic artificial Christmas trees are just like the real thing – without the need to vacuum fallen needles. Choose lush spruces, snowy finishes or even pre-lit to save getting in a tangle with the fairy lights.

Christmas wreaths and garlands
A festive wreath on the front door is a traditional way of decorating your home for Christmas. Choose a classic design featuring evergreens, berries and ribbons, or a contemporary, minimalist Christmas wreath. Garlands look pretty when hung on the mantelpiece or shelves, and make a lovely alternative to tinsel.

Christmas gnomes
Christmas gnomes – or 'gonks' – make cute additions to your festive home décor. These cute little Santas originated from Nordic and Scandinavian mythology, but nowadays they add a touch of fun to the festivities. They're essentially garden gnomes crossed with Father Christmas – and we can't get enough!

Christmas nutcrackers
Inspired by the classic ballet "The Nutcracker," Christmas nutcracker decorations have become iconic. Originating from German folklore, these wooden soldiers traditionally crack nuts with their strong jaws, but are popular these days as ornaments in their own right. Displayed on mantels or nestled among evergreen branches, nutcrackers add whimsy and nostalgia to your festive decorations.

Christmas stockings
You can't have Christmas without Christmas stockings. Our selection includes traditional designs, personalised stockings and Christmas gonk stockings. And don't forget your precious pets– we've got Christmas stockings filled with treats and toys for them too!

Advent calendars
The countdown to Christmas truly begins when you open the first door of an Advent calendar. Whether filled with chocolate, miniature beauty treats or simply a seasonal scene, there's so much choice when it comes to Advent calendars nowadays. Your furry friends can get involved too with our Advent calendars for pets.