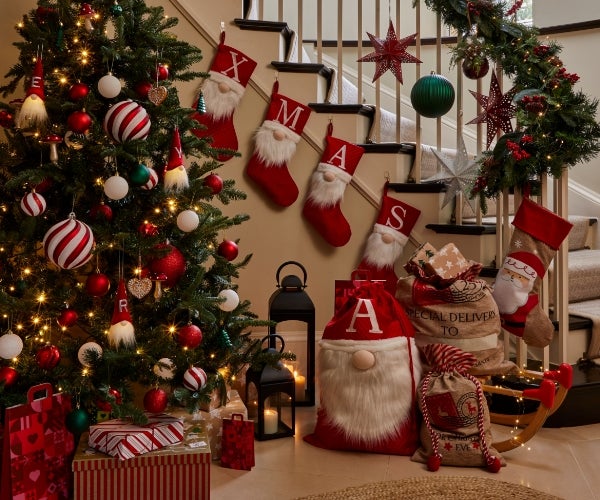 Christmas Has Landed
There's no time like the present, shop decorations, fashion, gifts, homeware and get set for Santa right here.
Homeware
HEARTY HOMEWARE FOR BREAKFAST-IN-BED
There can be no cosier room than the bedroom. It's where we have lie-ins, where we enjoy breakfast in bed and where we collapse after a day hard at work. From stylish duvet sets, handy bedroom storage solutions and cosy throws, we've got everything you need to ensure your bedroom is a wonderful place to retreat and relax.

SLEEP IN STYLISH HOMEWARE
Sometimes, all you need to feel like you've had a complete bedroom overhaul is fresh bedding. Whether you want a cool, minimalist white waffle duvet set or a bright, sunshine yellow (guaranteed to bring spring into your bedroom whatever the season), we've got you covered.

HOMEWARE FOR KIDDIES
Include your children in the bedroom overhaul with our selection of children's bed sets guaranteed to put a smile on any little one's face. From Paw Patrol to Harry Potter to Perfect Princesses, there's something to make sure your little one sleeps soundly whatever their tastes.

TOG-TASTIC HOMEWARE
Are you always cold at night? Or maybe you're prone to throwing off the covers and sleeping in the open air? If you can't seem to get the temperature right then it might be time to invest in a new duvet. From 10.5 togs, perfect for summer evenings, right the way up to 15 tog duvets that will keep you snuggly even on the coldest of nights, we've got your tog needs in hand.

WARDROBE WONDERS
Is 'organise wardrobe' always on your to-do list? Do you have four pairs of trousers crammed onto every hanger? Well, panic not, we've got your back. With our selection of hangers from green velour hangers (perfect for taking care of that beloved dress) to wooden hangers featuring metal clips, wardrobe woes will be a thing of the past.