Cushions are the key finishing touches to any room. They're all about adding comfort, colour, and texture to a room. However, it can soon look a jumbled mess if not done with precision! It's all about knowing your colour scheme, the vibe of the room, and the kind of sofa you've got! Check out our guide on choosing and arranging cushions - the "pro" way.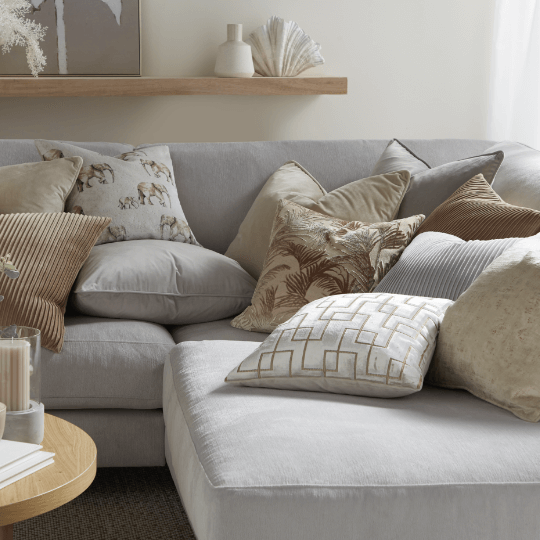 What colour cushions go with a grey sofa?
Grey has recently become hugely popular for interior furnishings, and rightly so. It either maintains a minimalist vibe, or is a foundation for a more maximalist vibe. However, silver hardware, jewel or pastel tones, and clean finishes suit a grey-based room the best. Grey sofas are everywhere, which leads to the big question. What colour should my cushions be? Avoid anything that's warmer or brown toned, otherwise your room's colour palette will be thrown off. Grey looks classy paired with black and white trimmings. However, if you're more into colour, then cushions on a grey sofa are a perfect opportunity to inject some vivid tones into a neutral palette. We love neon, jewel and pastels for that colour pop. Try and avoid matching grey cushions for your sofa. If you want a monochromatic effect, go for lighter or darker hues of grey to break it up and make sure that the cushions appear separate to your sofa. Silver always seems tempting, but silver cushions work as the final accent cushion that are much smaller and contrast to the base cushions behind it.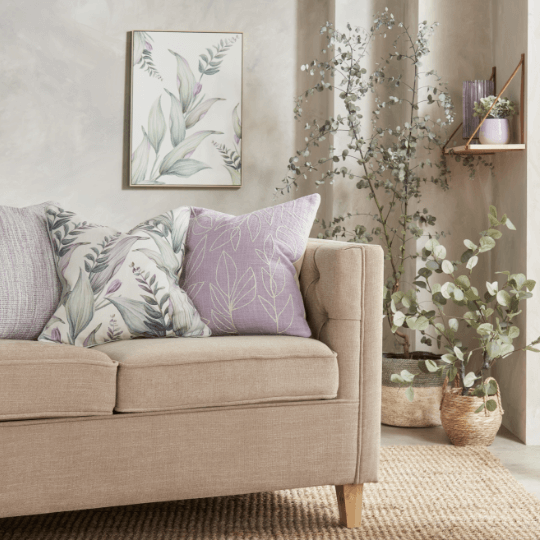 What colour cushions go with a brown sofa?
For a warmer, cosier vibe, a brown sofa is perfect. For those who prefer earthier tones, gold hardware and maximalism, brown furnishings should be your go-to. They create an antiquated, classic living room whether your sofa is leather or not! Consider your cushion texture based on your sofa material, as it could be sensory overload mixing too many materials together! Velvet and fur cushions are complementary, often preferred for a fabric sofa. Leather sofas look neatest with fur or linen cushions – avoid sequins at all cost, otherwise you'll be stressed about the scratches! Give cool tones a miss, as the warm and cosy room the sofa makes will be thrown off. Jewel tones also go nicely with the brown. They have the warmth in their vivacity which makes it an understandable pairing and also ensures that the room doesn't look dull.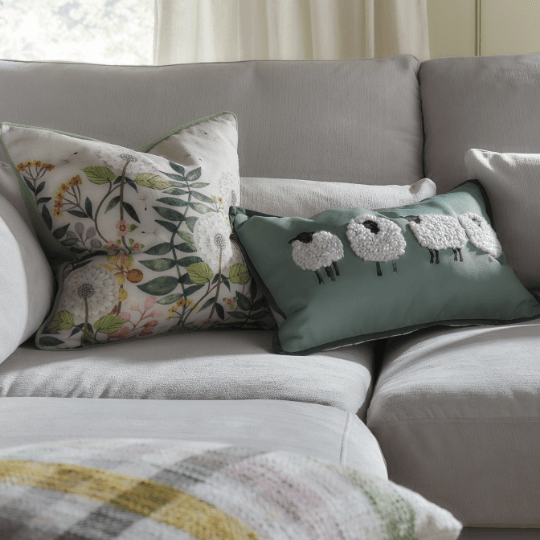 How many cushions to have on a sofa?
To be symmetrical or asymmetrical, now THAT is the question! It's clear that each sofa seat must have at least a cushion, but the amount is really a personal preference. Back to the minimalist or maximalist question from earlier- this really decides how many cushions you're fitting on your sofa. Also, what are the reasons for your cushion? Is it extra back or neck support? Is it for a pop of colour? Or extra overall comfiness? Any more than two cushions on each side will overfill a shallow, smaller sofa. If you've got a big, deep sofa you can pile high with cushions, the more the merrier! We've gone for three cushions on each side here, in prints that are all different but in a similar colour palette.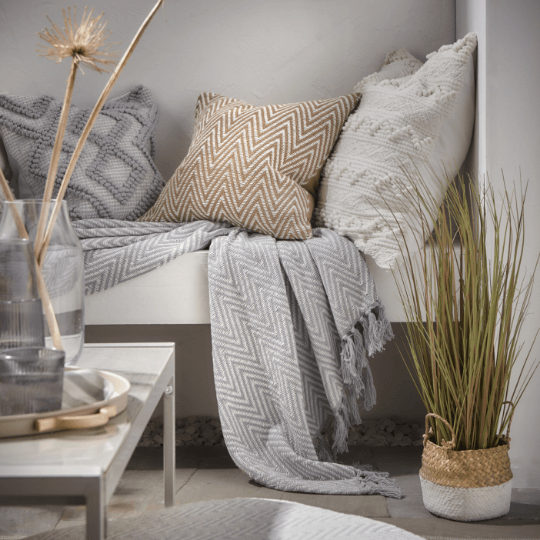 How to match cushions to your sofa
At the end of the day, it's important that your cushions match the sofa. It should look and feel cohesive and not at all obvious that you didn't buy the cushions for that sofa. However, if you deliberately want them to clash, make that a theme which runs throughout the whole room. Hot pink sofa? Make it clash with neon orange cushions. The colour wheel is your best friend, and complementary colours are what you're aiming for!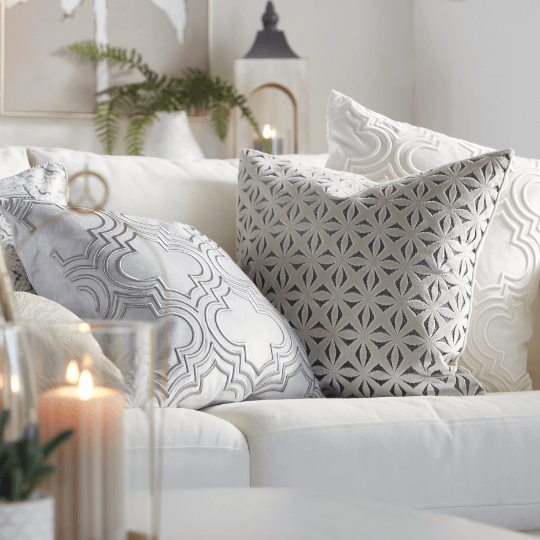 How to display cushions on sofa
So, you've bought your cushions and they match (or clash with) the sofa. You've chosen how many you want and now you're staring at your sofa thinking… Now what? The aim isn't for it to look messy, it's for it to be cosy and chic. Bought cushions all different sizes? We recommend a pyramid approach: So, you start with your biggest two cushions. They'll go on first and sit nicely against the sofa back. And then you'll pick your next two biggest. And so on. Going from big to small makes the sofa seem deeper, showcases the cushions that you've picked and offers more support for your back.
Bought cushions all the same size? This is especially luxe if you're wanting to line the whole sofa back with cushions. Add further texture to your sofa by having the cushions slightly overlap each other for a fan affect that creates some dimension.