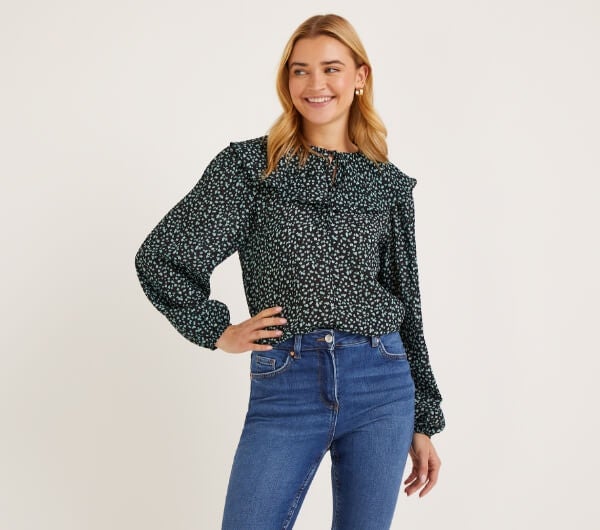 Smart Casual For Women
Our Guide to the Smart Casual Dress Code
What is Smart Casual? Here's Our Ultimate Guide
There's nothing more overwhelming than a dress code with lots of different interpretations and smart casual is right up there at the top of the list. So, to make it a little easier, we've compiled our ultimate smart casual guide, crammed with lots of outfit ideas for women. It's the perfect place to hunt out inspiration, whether you're looking for work clothes, something to wear to a low-key party or to another event requiring a smart casual outfit.

So, first up, what is smart casual? The term is basically about balancing your look with high-low pieces, which means you might wear something laid-back like jeans, but dress them up with smarter pieces like a shirt and blazer or heels. Or it could mean wearing a posh dress but then giving it a relaxed edge with a pair of trainers. It's all about dressing up your wardrobe's casual items and dressing down your wardrobe's smarter items – hence the high-low idea.

Lots of workplaces have accepted it as their daily dress code for offices – although that's worth asking about before you start a new role. And, it's also something you might spy on an invite to an event, especially when you're being invited to an occasion that's a bit more casual than a wedding, engagement party or christening. You might wear smart casual to a launch party, to a work conference or to a laid-back dinner with friends.

Our top tip? If you're feeling completely out of your depth and worried about your smart casual outfit not being quite right, always go slightly smarter. You'll feel more confident being marginally overdressed than being underdressed.

Items it's worth considering for smart casual are: dresses - especially a midi or knee-length style, jumpsuits, culottes, jeans (although ideally not heavily ripped ones), shirts, blouses, striped tops, smart knitwear, blazers, biker jackets, chunky heels, trainers and smart flat shoes like brogues or pumps. All of these items are easily styled up or down to fit in with smart casual.
Our Smart Casual Do's and Don'ts
The beauty of smart casual is that it's incredibly flexible and you can - to a degree - put your own spin on it, depending on what your own personal fashion preference is. We've pulled together a few handy rules to stick to in case you're still feeling a bit lost by the smart casual dress code.
It's worth mentioning that smart casual is a bit of a grey area when it comes to getting dressed so there's no fixed definition or rule book. But it might be worth using these do's and don'ts as a bit of a starting point…
DO stick to the sort of pieces you usually feel good in. Start by picking one item you love – maybe it's a pair of black skinny jeans or a printed blouse or a floral midi dress that makes you feel amazing – and then work around it.
DO look for fresh ways to wear items. For example, you might automatically assume that tracksuit bottoms are off the table, but these days there's great jogger shaped trousers which are made from smarter materials. Team these with a striped top, black blazer and pointed flats and you've nailed your smart casual outfit combo.
DO think about accessories. They have the power to absolutely pull an outfit together, so think about what bag, shoes or jewellery might work. There's no hard and fast rules on which accessories count as smart casual, so again, think about what's practical, what's comfortable and what goes with your outfit. It could be a simple black tote bag or a colour pop cross body bag, or you might want to add some wow factor to a white sleeveless top with a statement necklace or keep things classic with sentimental metal jewellery.
DO consider the weather and the temperate when working with a smart casual dress code. You might need a light jacket – a blazer or biker jacket, or even a trench coat would be perfect for this – or you might need something heavier. A wool winter coat would look great over any smart casual outfit, whilst something like a puffer jacket would be great if the rest of the outfit is smart.
DO take into consideration workplace rules if you're choosing a smart casual outfit as part of a workwear or office look. Some places won't allow jeans or trainers, whereas others will.
DO look to some of your favourite celebrities and influencers for inspiration. There's of course people like Kate Middleton and Meghan Markle who always tip onto the smarter side, but fashionistas like Olivia Palermo, Alexa Chung and Rosie Huntington-Whiteley are renowned for their smart casual wardrobes. Take a look at their Instagram pages for more ideas.
DO think about the type of event you're going to with the 'smart casual' dress code. Jeans are usually fine, but probably wouldn't be right for a wedding. Whilst figure-hugging dresses would work well for an evening event but might not be as ideal as work clothes.
DO wear colour. Gone are the days when smart casual had to just mean sticking to beige, navy and black. The modern take on the style means you can venture into gorgeous pastel shades or even add a pop of something brighter if the rest of your outfit is relatively simple. For example a jewel-coloured jumper might look amazing teamed with black trousers and brogues in the cooler months. Whilst a sunshine-bright bag might finish off a smart printed dress and block heels in the summer.
DON'T just stick to dressy clothes or just loungewear, smart casual is about combining both together to come up with an outfit that meets somewhere in the middle.

DON'T feel like you need to wear heels. Flat shoes (and even trainers) are definitely more than acceptable when it comes to pulling together a smart casual outfit.

DON'T go too over the top with prints and colour. It's fine to add one or two pieces that make a bit of a statement, after all it's so important you still feel like yourself, but try to keep your overall look still feeling classic and simple.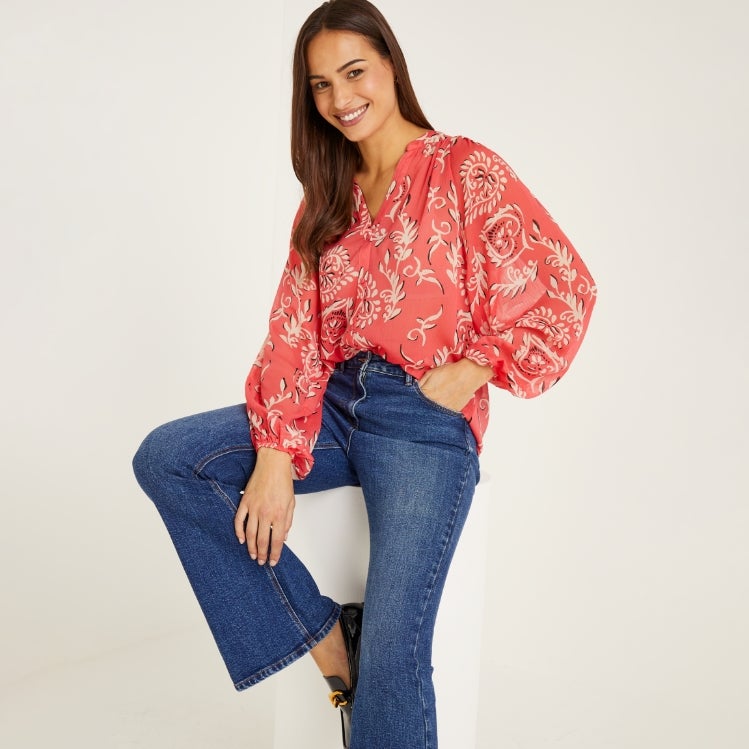 Smart Casual Outfit Ideas For Summer
Here we've laid out some of our favourite smart casual ideas for spring and summer, perfect for summer casual work outfits, or inspo to wear to low-key weddings or office events.
(And don't forget that when it's warm outside you'll still want to make sure you're prepared for all scenarios, which, in the UK, likely means packing an emergency light jacket, as well as the sunglasses and sun cream.)
Try a dress that comes just about the knee or longer with a black blazer and smart sandals. If you want a fun dress that explores a bit of colour or print then stick to a black or camel blazer, or if you want a simple, classic dress than you could even try a blazer in a pastel shade.

Perfect for a more casual take on the smart casual code is the midi dress ensemble. Wear something that makes you feel fabulous but feels dressy because of the length, and then dress it down with clean white trainers and a classic black biker jacket.

A great combination to wear as a work outfit and practical for warmer weather. Try wide-leg culottes, a sleeveless blouse (steer clear of anything too strappy but go bold and play around with floral prints or fun colours) and a simple pair of flat or low-heel pumps.

A brilliant and cool smart casual combo is a striped Breton top with a flowing midi skirt. Finish the look with a chunky heeled shoe.

You can never go wrong with a classic white shirt, so tuck it into a skirt (avoid anything too short, so it matches with the smart casual dress code), and team with a pair of smart sandals. A perfect summer work outfit.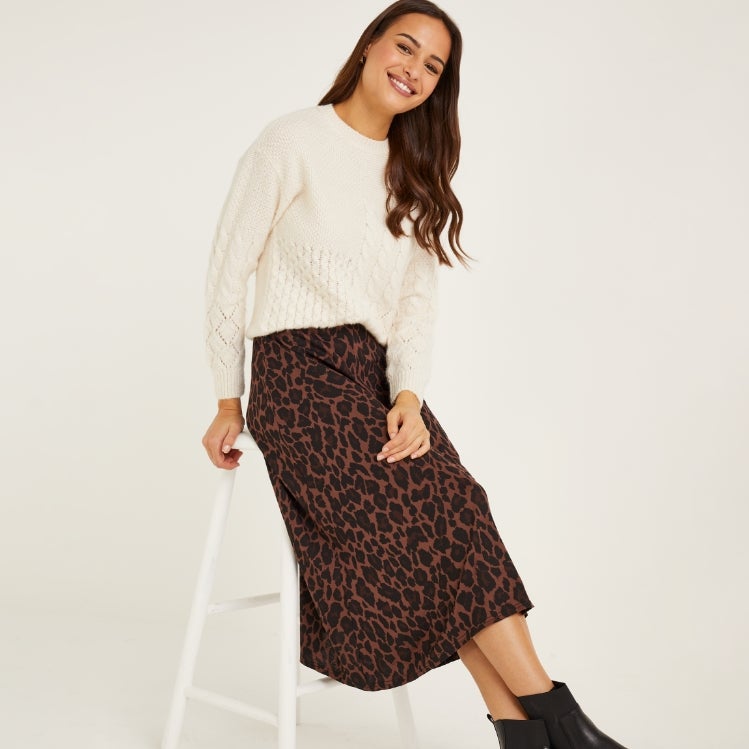 Smart Casual Outfit Ideas For Winter
We've also shared some of our favourite smart casual outfit ideas for the colder months in autumn and winter. It's important you feel warm so make sure you wear a coat and opt for layers to keep yourself as comfortable as possible.

The trench coat is one of those hero products that can be whipped out for almost any occasion, a bit like a blazer. Team it with smart trousers, a plain t-shirt and then a buttoned-up cardigan in your colour of choice. Finish the look with flat shoes – even trainers might work on this one!

Even if the weather is incredibly cold you can still work around the smart casual dress code. Wear your warmest tailored coat with smart black jeans and simple flat black boots (try a heeled style for a chicer look). Add a chunky jumper, and smart accessories.

Make your fave midi dress whether appropriate with a fresh pair of black tights. Try a darker coloured dress to make sure they go with the tights and then complete the look with smart black boots and either a blazer or winter coat.

An easy smart casual combo is the simple striped top and smart trouser outfit which is especially perfect for the office. Add a cardigan in maybe grey or pastel pink to keep it warm and finish some smart flat shoes and voila!

Tuck a dark coloured roll neck into your favourite midi skirt to instantly have a brilliant smart casual outfit. Make it feel super dressed-up with knee-high boots, or dress it down with tights and flat black pumps.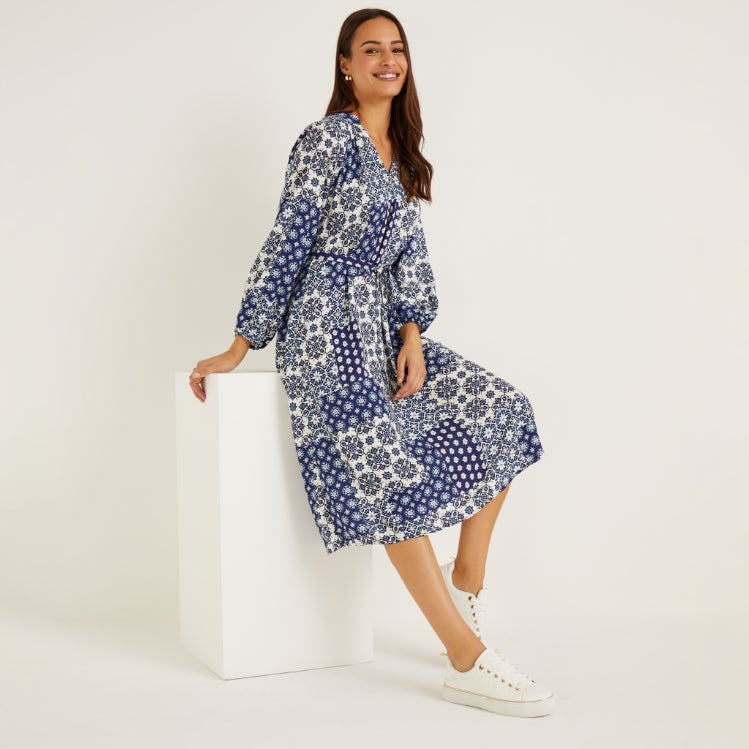 How to Style Your Trainers For Smart Casual
Right now it's all about dressing trainers up with smarter pieces to make them work, whether that's with a suit or with a midi dress. The main thing is that your trainers look fresh and clean – a brilliant option is always a good ol' pair of all-white kicks that go with everything and easily look dressy enough for a smart casual event.

DO hide your socks. There's nothing that instantly lets down a gorgeous trainer and dress/suit combo than a pair of socks poking out. Go for sports socks that can be easily hidden from site.
DO play around with different outfit combos. Trainers can go with almost anything. They look ace with a jumpsuit or with tailored trousers or with a midi skirt.
DO make sure the rest of your outfit is fairly smart – think tailored items like shirts, blazers, trousers and trench coats, to offset your casual footwear choice.
DON'T assume trainers will work for all smart casual events.
DON'T pair them with an outfit that feels too casual. It's all about that balance, so ensure the rest of your outfit feels quite dressy, and avoid items like smart tracksuit bottoms or t-shirts.
How to Make Your Jeans Work For Smart Casual
Jeans are one of the hardest working items in your wardrobe, perfect for almost any occasion or event year-round. These days you can even get away with wearing them as part of the smart casual dress code, so long as you dress them up rather than dressing them down. Our top tip? Keep the style fitted and smart – opt for styles which don't feature heavy rips or embellishment details. A skinny cut, boot leg or wide-leg would all look (and feel) brilliant.

Here's some of our top tips for making your jeans work for smart casual…
DO pair your jeans with a nice top. Maybe it's a crisp white shirt or a printed blouse. If you've got jeans on your lower half, try and balance it out with something smart on the top half.
DO go for smart accessories. Team those jeans with a simple chain cross body bag or black tote bag and think about footwear too – you could go for a heeled court shoe or a smart flat loafer.
DO opt for a style of jean that you feel most comfortable in. Most jean shapes can be dressed up to fit in with a smart casual dress code. The only style we'd steer clear of would be anything overly baggy.
DO go for darker styles which instantly look more dressy than blue washes. Dark jeans make for great casual work outfits when paired with a blouse or shirt.
DON'T choose jeans for every smart casual occasion.
DON'T pair them with trainers as it might push your overall look too far into the casual category. Keep the overall look polished with smart pieces like blazers, shirts and trench coats.
The Items to Have in Your Smart Casual Wardrobe
There are certain items that just work brilliantly in a smart casual wardrobe and can be worn over and over again. Staples like blazers, white shirts, fitted trousers and trench coats are incredibly versatile and go with almost anything you try and pair with them – regardless of the time of year or the kind of occasion.
We've compiled our ultimate hero picks for every smart casual wardrobe, plus ideas on how to style them to maximise how much wear you get from them.
The queen of the smart casual world is the classic blazer. Perfect for wearing as a light jacket for summer work outfits and perfect for layering under thicker coats in the winter. You could also team a blazer with a white shirt or long-sleeved stripe top and jeans as a comfy smart casual combo. A great idea for a women's work outfit would be to try a blazer with culottes (can be the same colour or different) and a plain t-shirt and smart flat shoes.

A great white shirt fits well (with no gaping buttons), washes well and can be worn time and time again. For the perfect summer work outfit, you could tuck it into lightweight trousers or a skirt and add in a smart tote bag.

We love a pair of fitted dark jeans for adding a level of comfort to a smart casual outfit. They go with almost anything and are incredibly easy to dress up with shirts, blouses and sleeveless tops. Our perfect dressed up jeans outfit? A white shirt, a beige trench coat and a pair of super chic loafers. Casual work outfit nailed.

A simple pair of white trainers can go miles with a smart casual outfit so long as they're elevated with some great structured pieces like tailored trousers and blazers. One of our favourite ways to dress up trainers and create a great casual summer outfit is with a printed midi dress.

One of our favourite coat styles is the trench coat, brilliant because it's lightweight enough to work all year round and always adds a smart layer to any casual outfit. It also makes for the perfect cover-up for all your casual work outfits.

You just can't beat a classic pair of tailored trousers for every day work outfits. Stick with a black pair of venture into other easy-to-wear colours like navy and khaki. If you start your outfit with a smart pair of trousers it means that the rest of your outfit can be as laid-back as you like.